Every Piece... Magic
Various Bagged Specialties and Old Fashioned Favorites.
Packaged Chocolate Delights
Our bagged candy selection offers some of the latest treats to tickle the taste buds and an array of favorites from days gone by.
A little fantastic flavor to savor
What Makes our Chocolates Special?
It's more than one single thing as we take many steps to assure that our hand-made chocolate treats are truly world-class. Find out here.
Chocolate Oreo's™
When you combine genuine Nabisco Chocolate Oreo Cookies and our premium chocolate coatings you end up with a memorable snack experience.
Enrobed Pretzels
Our Chocolate covered pretzels are famous. We begin with highest grade pretzels and combine them with our special recipe milk and dark chocolates for a first-class snack experience.
Winner - "Best of the Mainline" (multiple years)
1/2 lb: $7.95
Nonpareils
Nonpareils (aka Non Pareil) originated in france (the name may suggest) but we make ours a little closer to home using "Les Ingredients Premium".
1/2 lb: $7.25
Directions | Contact Us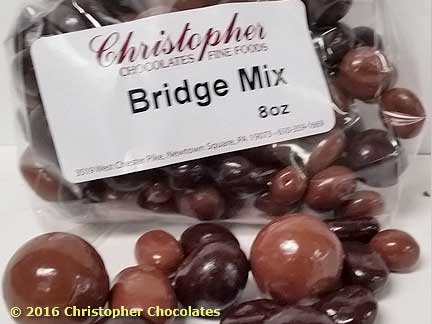 Bridge Mix
Features panned chocolate peanuts, raisins, almonds, malt-balls and bite-sized cremes. For when you want a little bit of everything.
Chocolatey Raisins
or maybe Raisiny Chocolates? either way you look at it, what else goes together better? A total sweet-fest with specially selected tangy, plump large raisins in our premium dark and milk chocolate.
Chocolate Almonds
When you use the best products available the end result is truly special. Large premium almonds enrobed in highest quality milk and dark chocolates.
Directions | Contact Us
Foil Wrapped Gifts
These are great "Gifts within a gift" individually wrapped so they are the gift that goes with you. Each gift filled with premium milk chocolate.
Chocolate Grahams
Our Premium Chocolate coated Graham crackors are one of those suprprisingly simple sweets that tastes, mmmm, delicious.
Chocolate Malted Milk
An indescribably sweet sensation, where melt-in-your-mouth good meets a solid yet soft core. Hard to out words on it but easy to put them in your mouth.
Directions | Contact Us
And More...
We are starting with a limited set of the stores products as we continue to gather additional product photographs and detail descriptions. That said if it's a popular chocolate item we are likely to have them available. Please contact us with any questions and feel free to make suggestions about things you'd like to see featured on the website.
We gladly take phone orders and will mail our delicious candy anywhere.*
Credit card orders are welcome.
We accept all major credit cards.

*
Contact us
to learn more...