Classic Favorite Candies
Enjoy or share your favorites from "back in the day".
Time traveling with Candy...
One of the simplest methods of time travel known is by food and in particular by candy. Using the "Classic Candy Time Travel Method we can jet immediately into a whole different time. A peaceful part of our past when all we were, was wrapped up in the candy-moment.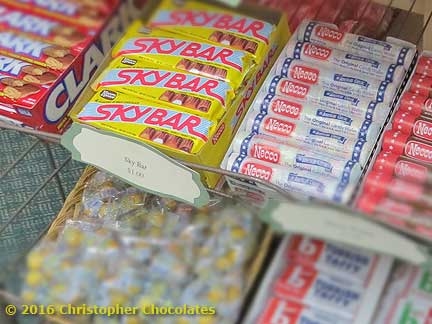 Classic Chocolate Bars & Treats
We rotate a selection of those favorite candy bars from the good ol' days.
Take a stroll down memory lane with Mr. Goodbar under a beautiful SkyBar, maybe share some Necco Wafers or a Delightfully Rich Bonomo Turkish Taffy.
The Tower of Classics!
For your time travel convenience, Christopher Chocolates maintains a tower of rotating confections spanning lifetimes.
We gladly take phone orders and will mail our delicious candy anywhere.*
Credit card orders are welcome.
We accept all major credit cards.

*
Contact us
to learn more...