Christmas at Christopher...
It's the Most Chocolatey (and gift basket-ey and gift boxetey) time of the year!
Philadelphia's Holiday Basket, Candy and Snack Headquarters!
For generations Christopher Chocolates has meant Holiday Gift Baskets that defy comparison. Even writing a summary of how we can provide for your Holiday feasting is hard but we'll give it a shot. Starting with Baskets we have a very complete range starting around $19.95 and featuring our Holiday themed extreme baskets at $149.95 all in store and ready to go whenever you are!
A variety of specifically christmas themed baskets that are unique each season.
Prices starting at $19.95 and going up to $149.95 on hand in the store in a wide range of increments
Custom baskets available for specific preferences including outside items brought in by the customer.
Corporate gifts available customized to the needs of our clients.
Discounts on volume purchases that scale as the volume increases.
Delivery and shipping available, locally and throughout the country.
Items are specifically Christmas decorated or winter themed and can be specified by customers wants and needs!
Gourmet Gift Baskets
Our Gift Baskets are hand-packed and cello wrapped. Handmade bows and individual decoaryions are added to the fit the occasion or holiday. Each basket is unique!
Nuts About You!
An Assortment of Nuts, Peanut Brittle, Nutty Snacks, Deluxe Mixed Nuts, Plus More. If you know someone who is NUTS, This Basket is for Them!: $34.95
Simple Treats Gift Basket
Fudge, Snacks, Chocolates, Candy Slices and other goodies. A Simply Sweet Treat!: $24.95
Customized Gift Baskets
Select your favorite goodies and wrap them in one of our hand decorated baskets. Any Price Range Available.
Our Chocolate Box
You Asked For It...Our Christopher Assortment, Bridge Mix, Fudge, Truffles, Chocolate Pretzels, Chocolate Chip Cookies and more. ALL Chocolate, All in One Great Gold Box.
Original: $48.95
Hostess Gift: $29.95
the Pretzel Lovers Gift Basket
Milk & Dark Chocolate Pretzels, Dipping Pretzels & Diiping Mustard, Peanut Butter Pretzels and more Pretzels!
Original: $47.95
Hostess Gift: $27.95
Having a Party?
They will love this… Chocolate pretzels, mini chocolate pretzels, cookies, snack mixes, gourmet popcorn, cashews, snacks and candies. Enough munchies to say, "Thank You For Your Business" or "Happy Holidays". No mixes, no fuss, just open and munch:
Medium: $49.95
Large: $74.95
X Large: $99.95
Jumbo: $124.95 ~ $199.95 or more*
Homecoming
Truffles, Snack Mixes, Chocolate Almonds, Chocolate Pretzel Balls & Cookies, Fruit Slices and More Chocolates. All made up in a decorated house box.
$34.95
Simple Treats
Make Your Own Custom Gift Basket
Select the type of items you want and how much you would like to spend and we'll put it together and hand decorate it just for you! $19.95 - $300 or more.
Holiday Season Hours:
(Open on Sundays to Until Christmas Day)
Monday to Friday: 10 AM to 6 PM
Saturdays: 10 AM to 5 PM
Nov. 29th thru Dec. 20th: Sun. 11 AM to 3 PM - getting here.

Philadelphia's Mainline Chocolatier
Assortments for Every Taste and Occasion
All of Your Favorites

Christopher Assortments- a Taste of everything
Crisp & Chewies, Vanilla Buttercreams, All Dark Ass't, Sea Salt Caramels, Cordial Cherries, Mints, Caramel Nut Patties and All Your Favorites


1lb  $18.95, 1/2lb  $9.75

Our Connoisseur Assortment - a taste of everything plus Truffles


1lb $21.95

Melt in Your Mouth Truffles


1lb $23.95, 1/2lb $12.75, 4pc  $3.95

Chocolate Covered Pretzels - We use only the best - Wilbur Chocolate. Mmm!


14oz box  $14.50, 1/2lb bag $7.95

Decorated Mints - for all Holidays & Seasons


15pc box  $8.95
*Please note: some Holiday items are subject to limited availability - if concerned call us & reserve!
Seasons Giftings
Holiday Baskets
Christopher is known for delivering our areas highest quality gift baskets. With spectacular themes for all of the Holidays and chock full of delicious goodness. Not to mention we can customize your gifts with the hundreds of unique items in our store and even with items you may wish to bring in to enhance and personalize your gift baskets!
Sweet Surprise!
Holiday Deco mints
For a sweet cool winter breath of fresh air you need to share some of these special limited supply Holiday Decorated Mints.
Everything Xmas!
The Full Selections
Not only Chocolates but EVERYTHING you need for sensational Holiday snacking. We take pride in hosting nearly every Holiday staple candy and snack. All of the special little items we remember from when we were little ones and the new ones that today's generation will remember.
Bring the Box!
The Real Deal
Sure, you could show up without a box of fine chocolates, but you know that would just be wrong. And if you're going to do it right, do it really right with fresh locally produced fine chocolates from Christopher Chocolates. We have assortments ranging from $9.95 to our 1lb. grand box of finest chocolate truffles at $23.95. Don't stop there though, come on in and you'll see we have a huge assortment of pre-boxed chocolates and can also help you create your own custom assortment of all of your special favorites. Christopher means you can afford to make a really big hit this Holiday Season.
A Huge Impression
The 10lb Wilbur!
Christopher always has these waiting for your biggest Chocolate fans- the 10lb. Wilbur bar means they'll always have fine milk or dark chocolate available for snacking and recipes as well. A yuge 10lbs. of the finest chocolate you can buy in one convenient bar, just don't eat it at one sitting (unless you have loads of friends around!)
Hey BIG Santa!
What could be bigger?
Nobody gets more attention around Christmas than Santa, and when you combine Santa with a large single piece solid chocolate Mold you get a 2.5 lb's of Holiday Deliciousness. That's both a lot of chocolate and a lot of Santa. Invite him to your Holiday event, this Santa makes a great centerpiece you can eat and enjoy.
Foiled Again!
Foil Wrapped Snacks
Not only do foil wrapped snacks make them easier to "take with", they also do so much to brighten up your holiday displays. We always feature a broad array of foil wrapped delights in the forms of Snowmen, Xmas Penguins, Gift Boxes, Stars, Snowflakes and more. Some are solid chocolate, others hollow and others with various fillings. The variety changes and is too broad to list here so come on in or call to see what we have for you.
For the Specialest ones!
Kids ❤ Jelly Pops!
If you really want to see your children, nephews, nieces and grandchildren light up, we have just the trick, and that's Jellies on a stick! With the most "fantastick" holiday themes we know you won't disappoint anyone.
And those Baskets
The Areas Best...
Our family takes conspicuous pride in delivering thousands of gift baskets every season, year after year. Once people receive one, they know the difference. Not just high quality snacks, but the best quality, and the best variety. In addition to that, high quality baskets and gift packages that your friends, family, associates and coworkers will remember and appreciate long after the Holiday has passed.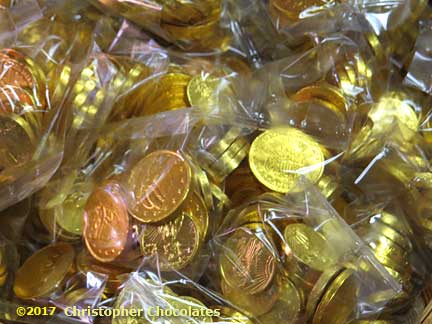 Silver & Gelt
Chanukah Gelt
Not just for Chanukah either, kids young and "not-as-young" love Chocolate coins. Great for all occasions but in particular during the Holiday season where they add shimmer and magic to Holiday baskets and stockings.
Mini Ornaments
Get on the tree for Good
Mini ornaments are chocolate and candy-bit filled delights that create lasting memories. They can be included in baskets and will keep hanging around at Christmas year after year.
Winter Wonderlands
Snowflakes & Stars
The image shows our famous white chocolate dipped snowflake/star pretzels with yes, that's right - tasty glitter. Nestled among foil wrapped stars these make a great landscape for your holiday trees and baskets or just a wonderful and delicious classic filler for your snack bowl.